Feathered Follies
Jungle Toys Mongoose 208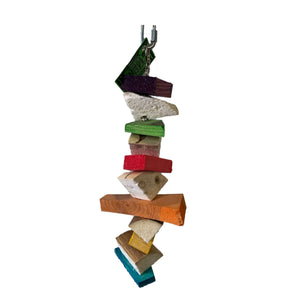 I absolutely love Feathered Follies. I've been coming here for a long long time. I got my black-capped caique here and its always fun to pop back in for a grooming visit. He loves the attention from the friendly staff. This is hands down THE ONLY PLACE i will board my Bird when i go on vacations!

Zack F.
This is by far the best little gem in Contra Costa county. Been a customer of their's 19 years. They've constantly upgraded, added new product and services to go with what us local bird owners need to make sure our birds thrive. Recently tried out their grooming Full spa package and my birds feathers have never looked so clean and bright. My bird even seems happier grooming himself. If you haven't tried the full spa package...highly recommended!

Katie D.
I have been frequenting Feathered Follies for several years now. I've adopted three parrots from them and get all of my supplies and grooming here. The staff is incredibly knowledgeable and friendly. Their standards of care are beyond reproach, all of the products are well stocked and there is always a great variety, whether it be food, toys or supplies. Their groomer is terrific and it's never a traumatic event. I am always first to recommend this shop based on their prices, service and variety!

Jackie T.
First time here today after reading the reviews. It's a lovely shop with some beautiful feathered babies. It's a very clean shop and everyone was super polite. I'm starting my parrot journey with them and plan to continue going bi monthly to greet the parrots and spend time with them as I learn more and more. Truly a wonderful little shop. Highly recommend going! Those little feathered babies need so much love and you can definitely tell the people there care about them and making sure they all go to their forever homes. Hopefully by next year I'll be adopting one!

Jamie S.
This place is the best place for adoption! I am very happy with my green cheek conure! The staff are very knowledgeable. I love the fact that they will not sell you a bird until you repeat your visits. It makes lots of sense! That way you and the staff can select the right pet for you! Thank you guys so much!

Ryan S.
Love coming to this store, the team is always so friendly! We boarded our two birds here recently, and was really happy with the experience. When we picked the birds up, they seemed really happy, not stressed at all. I also like their selection of toys and food too.

Sheila W.
Everyone at Feathered Follies is so friendly and knowledgeable. Their passion for everything aviary is apparent as soon as you walk through the doors. We feel very lucky to have such an amazing resource for supplies, grooming, and boarding so close! The store is always clean (which is a challenge if you have even one bird, let alone dozens) and the employees are always super helpful and friendly! Their prices for food and supplies is so good that I drive all the way from Fairfield to buy stuff for our cockatiel.

Jessica C.
LOVE LOVE LOVE this place. If you have a feathered friend, this is the place to go. The staff there love their feathered friends and it shows. they have toy's, food, an adoption center, and more. Our Bird ChooChoo always gets his wings clipped there and always gets love thrown his way.... Take a peek one day. You won't be disappointed! I jokingly said to one of them, I'll just leave him out side and I got a nice warm educational lecture on why animals need to be loved like children. I wasn't offended at all because it was said with love and respect. I walked away like WOW, she loves birds. I just own one. LOL.

Monica S.
I have been shopping at Feathered Follies since I was 12 years old and got my first cockatiel there. The store has gone through many moves and changes since that time, and it is now underneath new ownership. The store has never looked better. It is Immaculately clean. They have more products in stock. Most importantly the birds seem very happy and well cared for. Lisa, the owner of the store (the only person I've really talked to recently) is very open and it is very, very clear that she genuinely cares for the animals' welfare. I love how they make sure that the birds are matched with the right family, by asking a lot of questions, spending a lot of time, and having a policy that you "sleep on it" to discourage the impulsive animal buy. I can't say enough good things. Support this local business! It's a good one.

Anna C.